Self storage for individuals
Are you going to renew your home? Is your storage room full? You donīt know where else to put your things? Are you going to need that compartment which is occupied with all those boxes? You canīt move freely in your house? Are you going to leave the country and need a place to store your belongings?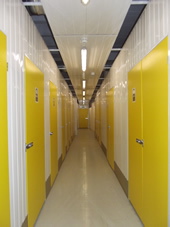 The storage problems in your home are over.
It seems something hard to solve, but it is not! We have the answer.
It is a great solution if:
·  You are having construction works into your home;
·  If you are moving;  
·  If you want to be able to park your car in the garage again;
·  If you are letting your house (safe keeping of personal belongings);
·  If you have an increasing family (need to vacate a room);
·  For a safe keeping of the goods belonging to a deceased relative;
·  If you need to free-up a rented room during a holiday period;
·  If you need to give an immediate destination to personal goods in case of divorce/separation;
·  If you need to keep off-season clothes;
·  If you need to keep sports goods (ski, surf, kayak, camping, hunting, fishing, bikes);
·  Objects of seasonal usage and travel equipment's;
·  If you need to store useless items that you still want to keep (baby stuff, collections, furniture, house appliances, books, cd's, etc...);
- Or simply having the need of extra storage.
The Contentor Amarelo, is a Self Storage company, located at Boavista (Shopping Brasilia). It's specialist in Self Storage solutions for those who have a lot of things but with little space to keep them. In fact, it is a kind of extension of your own home.
Spaces of 1 m2 to 45 m2, accessible 24 hours a day, 365 days per year.
Individual access control, intrusion and fire alarms, security and video surveillance 24h and insurance.
Cleanliness, dry environment, with good air flow and light.
Leases for minimum periods for 1 month, automatically renewed.
Possible to switch spaces, bigger or smaller, according to your needs without the paperwork.
Free parking for costumers, inside the building, with access to auxiliary means to loading and unloading.
Possible acquisition "purchase/rent" of packing and storing equipment (boxes, cardboard, shelves and a lot more).
Extra service for moving services.

All this from 15€/m2 per month. Ask us for further information.