Self Storage for Companies and Liberal Professionals
Are the space problems in your office solved? Office Moves? So many files, so much paper, so much lack of space. Do you think there is no solution for your lack of space problems?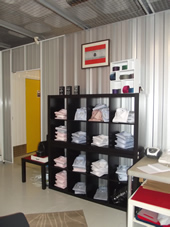 It seems a difficult case to solve but it is not! We have the solution.
This may be the answer to solving your company's storage problems. Is equally indicated for business "start-up" given the flexibility of the solutions available.
For you who are self-employed, and do not intend to have a storage structure and administrative structure, the
Contentor Amarelo
is the answer to solving all your problems.
It is an excellent solution for:
иа Showroom for your goods;
иа Presentations of collections;
иа Warehousing of merchandise;
- files (regular or dead archive, documentation, brochures, flyers);
- Stock, objects and selling items of seasonal use;
- Equipment, utensils, tools;
- Medical equipment and medical sales;
- Various themed products, articles for themed commercial storefronts (Christmas, Easter, etc.);
- Articles of promotional campaigns, models;
иа The obvious need to have some extra storage.
The Contentor Amarelo, is a Self Storage company, located at Boavista (Shopping Brasilia). It's specialiest in Self Storage solutions for those who have a lot of things but with little space to keep them. In fact, it is a kind of extension of your company or office.
Spaces of 1 m2 to 45 m2, accessible 24 hours a day, 365 days per year.
Individual access control, intrusion and fire alarms, security and video surveillance 24h and insurance.
Cleanliness, dry environment, with good air flow and light.
Leases for minimum periods for 1 month, automatically renewed.
Possible to switch spaces, bigger or smaller, according to your needs without the paperwork.
Free parking for costumers, inside the building, with access to auxiliary means to loading and unloading.
Possible acquisition "purchase/rent" of packing and storing equipment (boxes, cardboard, shelves and a lot more).
Extra service for moving services.

All this from 15€/m2 per month. Ask us for further information.